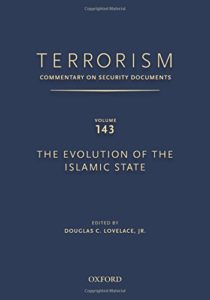 Oxford University Press is republishing Dr Waller's strategy to design an information warfare campaign against global jihadists.
Dr. Waller wrote the strategy for the John F. Kennedy Special Warfare Center and School at Fort Bragg, with Dr. Sebastian Gorka of the Threat Knowledge Group. The plan is titled "Designing an Information Warfare Campaign Against the Global Jihadi Movement."
Oxford is set to republish the plan in Douglas C. Lovelace, Jr.'s edited volume, Terrorism: Commentary on Security Documents: The Evolution of the Islamic State, with a release date of November 24, 2016. (The volume won't be available until March 2017.)
Lovelace is Director of the Strategic Studies Institute at the U.S. Army War College.