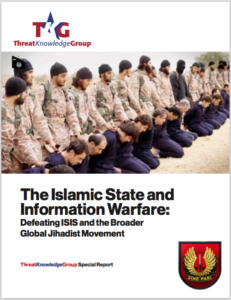 This is a partial listing of Dr. Waller's published policy papers.
"America needs an in-kind deterrent to Russia's political warfare," Center for Security Policy Decision Brief, July 23, 2018.
"Designate the Muslim Brotherhood as a foreign terrorist organization," Center for Security Policy Decision Brief, June 28, 2018.
"Making the world safe for prosperity: State Department needs an overhaul to be more business friendly; The case of the US Embassy and Tahoe Resources' Escobal silver mine in Guatemala," Georgetown Research, November 2017.
"Weaponizing Ridicule," Military Review (US Army Combined Arms Center, Fort Leavenworth), September-October, 2017.
"Designing an Information Warfare Campaign Against the Global Jihadi Movement," in Sebastian Gorka, ed., Threat Knowledge Group, The Islamic State and Information Warfare: Defeating ISIS and the Broader Global Jihadist Movement (John F. Kennedy Special Warfare Center and School, 2015).
"The Muslim Brotherhood: Doctrine, Strategy, Operations and Vulnerabilities," in Anna Bekele and Patrick Sookhdeo, eds., Meeting the Ideological Challenge of Islamism: How to Combat Modern Radical Islam (Westminster Institute/Isaac Press, 2015).
"Getting Serious about Strategic Influence," Journal of International Security Affairs, 2009.
Fighting the War of Ideas like a Real War (Institute of World Politics Press, 2007).
"Wage Political Warfare," with Alex Alexiev and Caroline B. Glick, in Frank Gaffney, et al., eds., War Footing: 10 Steps America Must Take to Prevail in the Free World (Naval Institute Press, 2006).