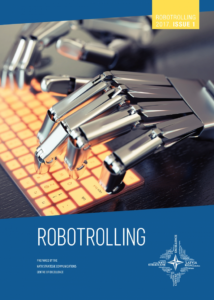 A new report on Russian trolling against NATO shows the important contributions that small frontline allies are making to the alliance, Dr Waller tells Bill Gertz in the Washington Free Beacon.
Gertz reports: "'While we provide the real military might, our smaller frontline allies focus on Russian information operations and psychological ops that we often miss,' said Waller, a senior fellow at the Center for Security Policy who has served on the editorial board for the NATO Strategic Communications Centre of Excellence."
"'The frontline states in the Baltic region, and allies like Poland, are prime targets of Kremlin trolling offensives,' he said. 'The Russians are fighting NATO through subversion—circumventing the Article 5 collective defense trigger to weaken the alliance from within.'
"Automated social media attacks are one part of the subversion campaign and have already caused friction within the alliance.
"'This report is vital to show NATO planners one of the ways the Russians are waging psychological warfare against us in peacetime,' he said. 'It should help us to craft appropriate defensive and offensive countermeasures and a better strategy overall.'"
The report, by NATO's Strategic Communications Centre of Excellence in Riga, is titled Robotrolling. Download it here.