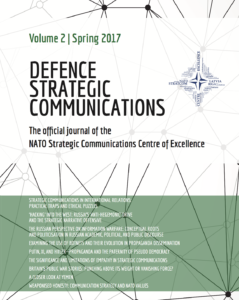 The second issue of NATO's Defence Strategic Communications journal is out, and we're already having a surprisingly good impact.
Published from the fortresslike former Red Army recruitment center that's now NATO's Strategic Communications Centre of Excellence in Riga, Latvia, the journal's big focus is on information warfare pertaining to Russia.
Dr Waller is a founding member of the journal's editorial board.
Featured articles in issue 2, released in March (Download a PDF of volume 2 here), include:
"Strategic Communications in International Relations: Practical Traps and Ethical Puzzles"
"'Hacking' Into the West" Russia's 'Anti-Hegemonic' Drive and the Strategic Narrative Offensive"
"The Russian Perspective on Information Warfare: Conceptual Roots and Politicisation in Russian Academic, Political, and Public Discourse"
"Examining the Use of Botnets and their Evolution in Propaganda Dissemination"
"Putin, Xi, and Hitler; Propaganda and the Paternity of Pseudo Democracy"
"The Significance and Limitations of Empathy in Strategic Communications"
"Britain's Public War Stories: Punching Above Its Weight or Vanishing Force?"
"A Closer Look at Yemen"
"Weaponized Honesty: Communication Strategy and NATO Values"
Provocative thinking from gung-ho staff
"Stratcom's gung-ho staff admit, their principal focus is the information war — or 'information confrontation,' in the center's preferred, less bellicose phrase — between NATO and Russia. But, they emphasize, they are only observers of that 'confrontation,' not participants, as both the external Russian media and the local Russia media would have it," Gordon F. Sander recently reported in Politico.eu.
The Centre has been around for less than two years, and has published a lot of material on information warfare and psychological warfare. Take a look: http://www.stratcomcoe.org/publications.