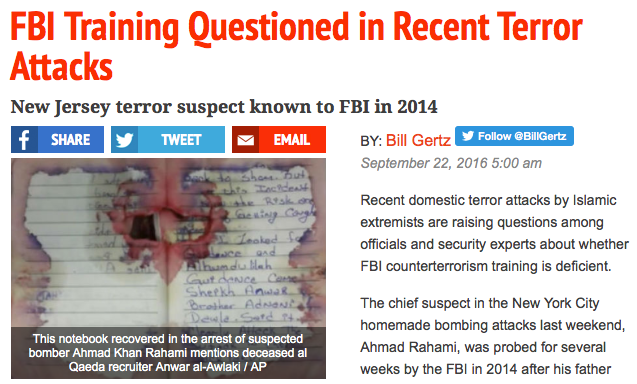 On the record: Waller again questions FBI training to detect jihadists
September 22, 2016
---
The FBI's failure to stop jihadists in America before they kill is proof that the Bureau is not training its agents to recognize the threat before innocent people die.
Bill Gertz interviewed Dr. Waller and others in the Washington Free Beacon after a mass shooting at a Seattle-area mall. "This policy began under the previous FBI director, Robert Mueller, and for years has had a chilling effect throughout the bureau," Waller said.
According to Gertz, "Waller says the FBI made a strategic error after the September 11 terror attacks by reaching out to Muslim Brotherhood Islamists and their front groups in the United States to court 'moderate' Muslims."
"'That's equivalent to the FBI asking the KGB for help in fighting Communist subversion and violence,' he said, referring to the Soviet-era political police and intelligence service."
"The administration's whole approach to 'countering violent extremism' literally keeps avowed jihadists off the FBI watch list, as long as they are not 'violent,'" Waller said. "So while the FBI does investigate some of these jihadis in advance, too often it lets them go, or misses them completely, until they murder and maim."
"Waller noted that any expression of Islamic extremism poses a threat to the Constitution because, whether violent or not, it advocates the overthrow of the U.S. government," Gertz reported.
"Such individuals, by statute, are proper targets for arrest and prosecution," Waller said. "The FBI's job—like any federal agency's job—is to defend the Constitution 'against all enemies, foreign and domestic.' In this regard, the FBI has failed."